Brooklyn, NY
Ed and Barbara Parker – Sustainable design grows in Brooklyn
Ed and Barbara Parker have been here before. The couple were featured by USM back in 2015 when they first moved into their Brooklyn apartment. However, as Barbara explains: "We didn't have kids back then, so this is different now."
The architects met when Ed was studying at the Carnegie Mellon School of Architecture in Pittsburgh, Pennsylvania and Barbara was on a student exchange program from her native Italy. After university, Ed moved to New York and Barbara joined him a year later. They first settled in Bushwick for a decade before finding their current apartment in Park Slope. "This neighborhood, at least to me, felt very European. After being in Bushwick – which is an up-and-coming industrial neighborhood – to come here and see a different architecture and urban setting resonated with me," says Barbara. "It was in a great location, and we were trying to be forward thinking," chimes Ed. "There are amenities for families. It's a beautiful place to be too.
Ed describes their apartment, which was built around 1900, as a "railroad, long and thin with multiple rooms you have to pass through". The couple were immediately keen to change the interior but it has taken time. They had only renovated the front in 2015. "Since then, we went through another renovation to accommodate the kids," says Barbara. So what was once a second living room in the apartment's heart has become the kitchen, an old cupboard stacked full of books making way for a built-in refrigerator and, naturally enough, the children have their own room.
There is also more clutter and splashes of color in a space that was once pristine white. The pair like the mix of old and new, as Ed says: "Pieces juxtapose each other and set each other off. Our insertions are modern but restrained." Which is where their relationship with USM comes in. Ed first came across the brand when he was studying in Zurich and was immediately intrigued. "When we first bought the USM Ed really advocated for it because he knew it and loved it," says Barbara. They had two cabinets – one for the TV, while the other housed Ed's ever-bourgeoning record collection. But with the second living room disappearing they had to find a way of storing their stuff.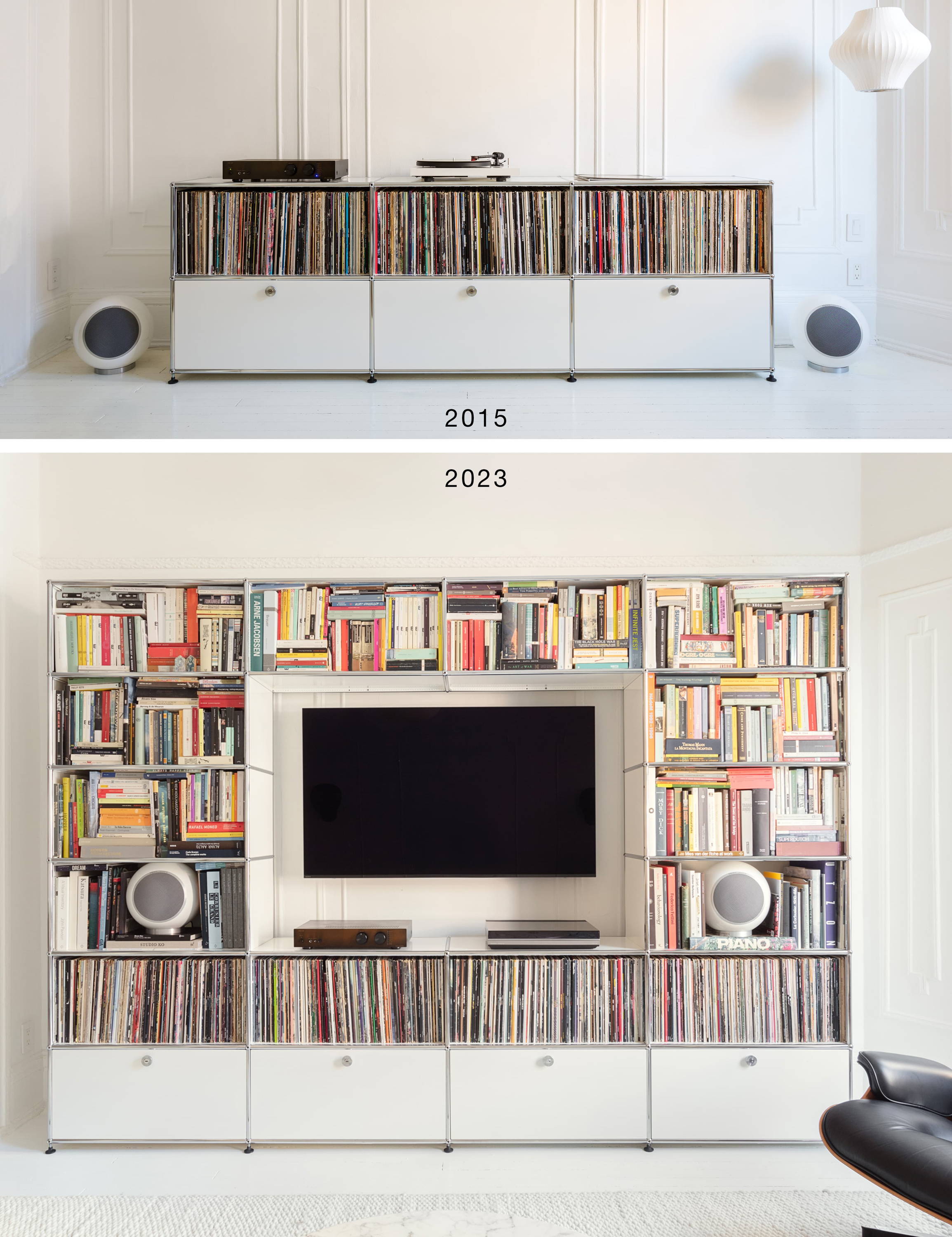 Neatly demonstrating how flexible and sustainable USM is, they simply combined their two existing USM Haller pieces and, working with a USM design specialist, added more elements to create an entirely new and much larger wall storage cabinet. They also purchased a yellow USM nightstand for their children's bedroom. "We had a decorative painter do a mural that we conceived in the kids' room. We thought from a color standpoint that it was a really nice match to that piece. Also, because USM panels are magnetic and the children have magnetic things, they like to play with it," says Ed.
Of course, life changes and interiors often have to move with them. Yet you get the sense the Parkers are keeping their USM for the long haul. "I've often imagined turning it into something else if we ever move, filing cabinets or storage for other things," says Ed.
"There's just something about good design in terms of details, materials and quality that generates pleasure" concludes Barbara "It has become quite the presence in the living room."
Sustainable Design
During its lifespan, USM can be redefined again and again – this makes USM a valued, consistent companion for life, and generations. Learn more about the circularity of USM here!
If you would like to purchase a USM Haller furniture piece design it now with our online Configurator Tool or select from one of our most popular designs in our online Shop. Visit one of our local Sales Partners or our USM NY Showroom. Find Us