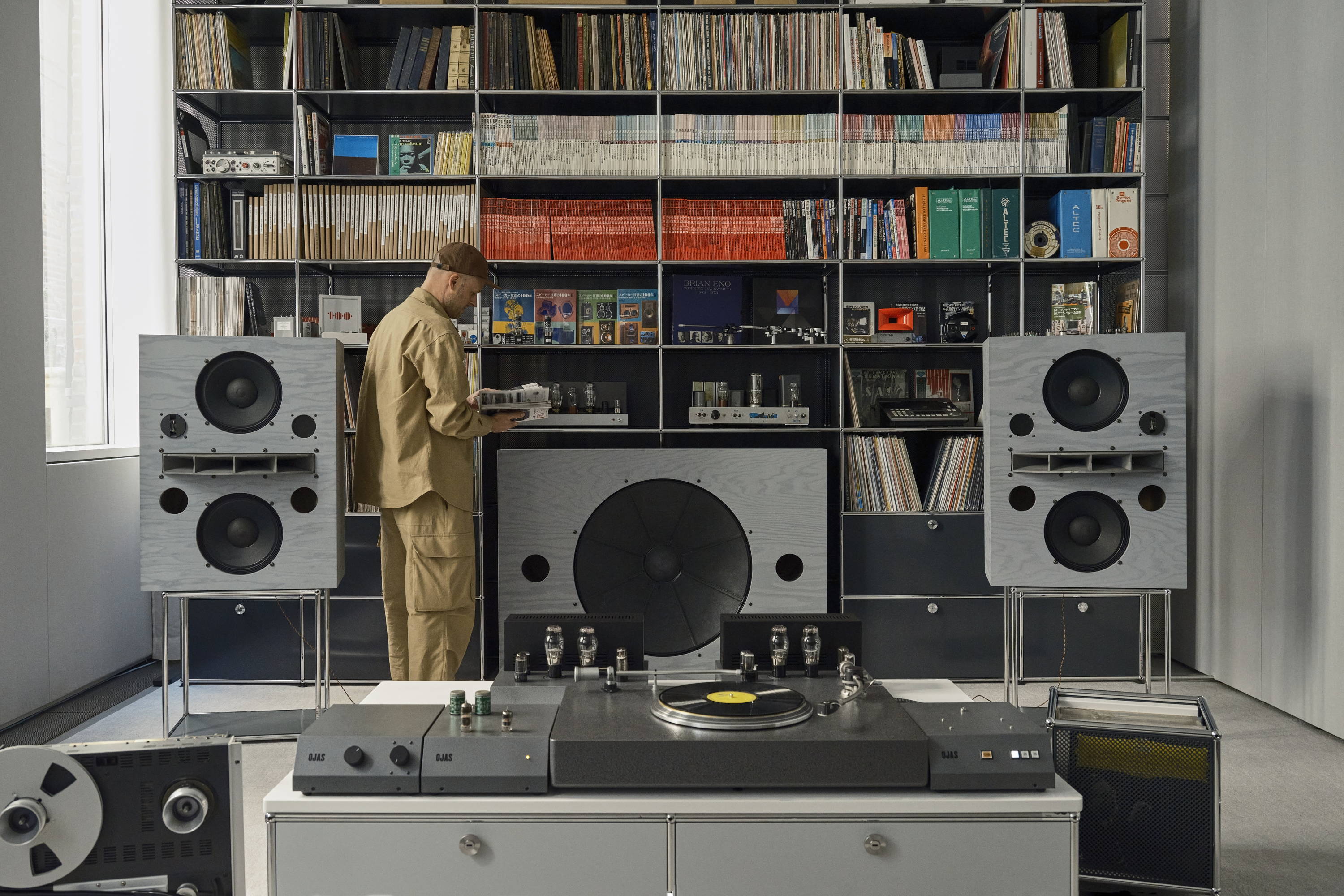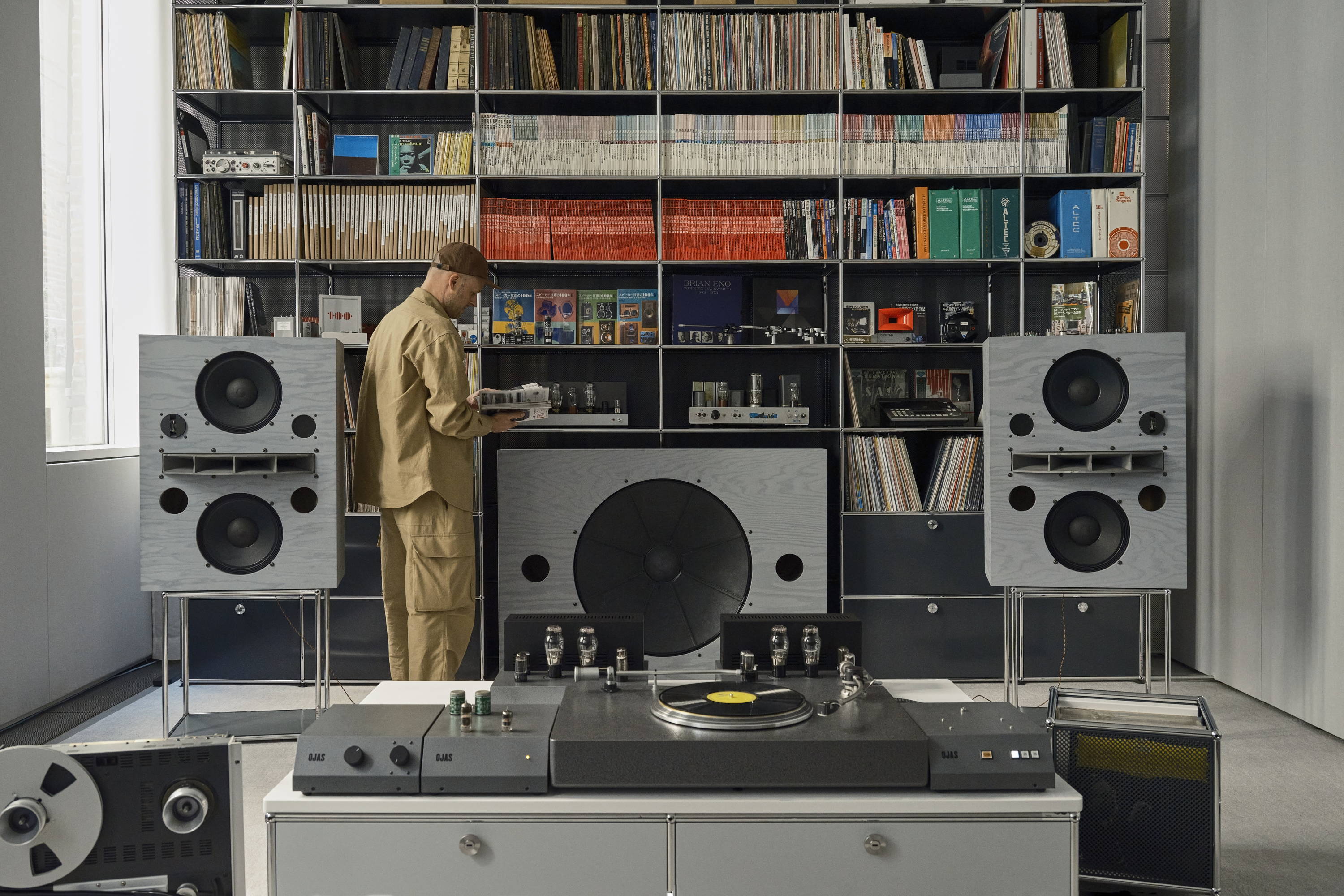 OJAS Listening Room at USM NY

The installation— Devon Turnbull's first semi-permanent listening room—is an acoustically-optimized space that delivers an outstanding sonic and aesthetic experience.
Sound guru and designer Devon Turnbull - aka OJAS
The design of the Ojas Listening Room at the USM NY Showroom integrates Turnbull's brutalist audio systems with USM case goods, seating, and other furniture, as well as Kvadrat Acoustics' Soft Cell panels. Visitors to USM will experience a calming environment in which to contemplate music, liberated from the disruption of outside noise. To help realize this ambitious project, Turnbull tapped expert acoustician Ethan Bourdeau and creative agency ICNCLST. The space is now open to the public with immersive, one-of-a-kind listening sessions. As part of the collaboration between Ojas and USM, Turnbull will offer a curated selection of products from the likes of Denon, Ortofon, Western Electric, Sun Audio, MJ Magazine, Stereo Sound, and others. In addition, Ojas will host lectures about all things audio tech and OjasAmpCamp will host DIY build sessions at the USM showroom. Come join Turnbull to build your own Ojas amps.
VISITOR INFORMATION
Location
USM Modular Furniture
28-30 Greene Street
New York, NY 100013
Hours
Mon - Fri 11am-5pm
Saturday 12pm-5pm
A sound experience by Devon Turnbull

Devon Turnbull Ojas is the creative pen name of Devon Turnbull. As a university student studying Audio Engineering, Turnbull started using the name across a variety of disciplines including graffiti, music, graphic design, and clothing design. In 2003, Turnbull co-founded the clothing brand Nom de Guerre with Isa Saalabi, Wil Whitney and Holly Harnsongkram. For the next decade, while primarily working in fashion, the name Ojas was kept alive on sound sculptures Turnbull was crafting for himself and a growing number of audio enthusiasts around the world. With a particular interest in high-efficiency speakers and low-powered tube amplifiers, Ojas audio equipment aims to bring realistic, natural sound to the listener. These products are the result of two decades of experimentation, engineering, and explorations in the audio underground.
Kvadrat Acoustics creates fully customizable, high-performance acoustic solutions for architectural projects worldwide. Kvadrat Acoustics Soft Cell panels are characterized by aesthetic excellence and exceptional versatility and set the benchmark for sustainability and durability.
ICNCLST is a New York City-based creative agency and artist management firm that combines innovators across arts and culture with world class brands. ICNCLST uses a triangulated process of collaboration, designed to service a network of artists, brand partners, and consumers and effectively harnessing a combined energy to drive the cultural impact and business implications of the interrelations therein.